Sealless Pumps
Chosen for their unique design, low maintenance costs, and reliability, Hydra-Cell sealless pumps are used world wide in process applications - in chemicals, oil and gas, pulp and paper, steel, cement, mining, power generation and the food and drink industries.
Applications calling a sealless pump and pressures above 10 bar include:
Pressure cleaning systems
Spray coating
Spray drying
Forced lubrication
Flue gas control
Pressure injection
Machine tool coolant systems
De-burring
Pressure boost
Pressure testing
Common fluids pumped by Hydra-Cell® Sealless Pumps include:
Abrasive liquids
Acetone/glycerine
Acids
Adhesives
Animal fats
Carbides in alcohol
Caustics
Ceramic slurries
Chemically aggressive liquids
Chocolate
Colorings
Detergents
Dirty detergent solutions
Dirty seawater
Dirty solvents
Edible oils
Foaming chemicals
Fuel additives
Flavorings
Inks
Latex
Machine tool coolants
Paints
Plastics
Polymers
Pulp fiber
Reclaimed or other liquids containing particles
Resins
Sand water
Slurries
Sugar solutions
Thin and non-lubricating liquids
Varnishes
Volatile fluids
Waste water
Water jetting
Water misting
Weather-proofing solutions
Wettable powders
We're in your industry - Please contact us for help!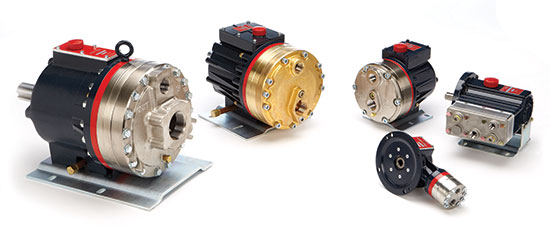 The seal-less nature of the Hydra-Cell ® sealless pumps enable charged and dirty liquids to be processed without need for fine filtration to protect the sealless pump.
The Hydra-Cell® sealless pumps need little maintenance and can operate at continuous duty at high pressure.
Pulsation is low, so dampeners may not be required for most Hydra-Cell® sealless pumps.
Hydra-Cell® sealless pumps can handle solids up to 500 microns, or more. They can be pumped without fine filtration. System costs are reduced and maintenance is simplified.
Most sealless pumps in the Hydra-Cell® pump range can operate at any pressure from <1 bar up to at least 70 bar. Some models up to 170 bar.
Seal-less design distinguishes the Hydra-Cell® sealless pumps from other pumps and is the basis of its long service life - many of the liquids pumped are harmful to pump seals. The Hydra-Cell® sealless pumps are tolerant of small solids, resistant to chemical and corrosive attack.
Energy savings. Compact and highly efficient (80-85%), a Hydra-Cell® sealless pumps can be fitted with a smaller motor than would be required by many much bigger and pumps for equivalent flows and pressures.