Smart and intuitive operation with three types of control functions:
Simple key functions and user interface for ease of operation.

Range can be set between 1 and 300 strokes per minute in 1-stroke units.

Discharge volume can be set up to the maximum flow capacity in 0.1 ml/m units (with SP models).

For fine-tuning an application, the stroke length can be changed from 100% to as low as 50%.

Safety mechanisms to prevent air lock.

Back-up diaphragm.

LED touch-pad operation.

Liquid end that can be positioned 90˚ left or right.

O-ring to prevent chemical permeation from outside the pump.

Welded casing and parts.

Hexagonal head bolts with cross recess.

Spare parts kits available to extend pump service life.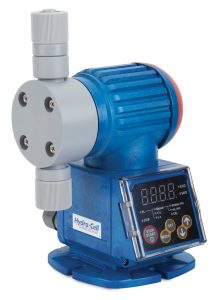 Unlike conventional pumps that are always turned on for a specific time period regardless of the discharge pressure, S Series "Eco-friendly" pumps with pulse-in control automatically cut the power-on time in accordance with the discharge pressure.
The "Eco-friendly" mode of SP/ST/SA models always monitors operation conditions and automatically shortens the power-on time during low-pressure operation in order to reduce power consumption and operating costs.