Hydra-Cell Pump Liquids
Seal-less compact design, durability and simplicity make Hydra-Cell pumps the optimum choice for handling aggressive fluids, abrasive fluids with particles, and
Hot fluids
Reclaim water
Corrosive fluids
Slurries
Abrasives
Liquid gases
Wettable powders
Fertilizers
Cutting fluids
Viscous fluids
Ultrapure fluids
Chemicals
Adhesives
Soap solutions
Salt water
and many more...

The Hydra-Cell Advantage
No dynamic seals
True positive displacement pumping action
Flow rate is virtually independent of operating pressure
Pumping efficiency is sustainable long-term – not vulnerable to internal wear
Pumps can handle non-lubricating liquids and liquids containing abrasive solids
Low shear pumping action

Hydra-Cell positive displacement pumps handle a lot more than just clean water!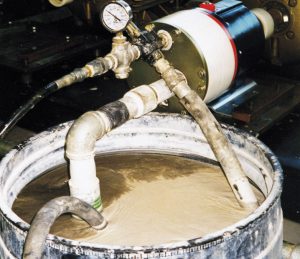 The pumping action of the Hydra-Cell makes it a true positive displacement diaphragm pump at both high and low viscosities. Flow rate is independent of discharge pressure.
Typically, Hydra-Cell diaphragm pumps are used for liquids in viscosities ranging from 0.1 cps to 20,000 cps. Examples of these high and low viscosity liquids are solvents, hot water, turpentine, glues, resins and thick slurries.