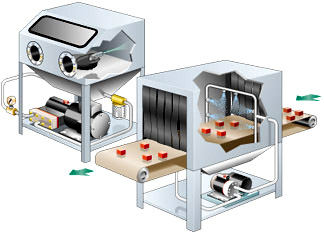 Parts Washing Pumps
Parts washing is one of the most common production steps for any industry that cuts, grinds or drills metal parts. Produced parts are covered with machining coolant, metal fines, and grime. While parts washers exist in many styles, they are all plagued by the same common problem; they require large reservoirs due to their low pressure, high volume flooding action. With piston/plunger style pumps, this becomes a time-consuming cleaning process because it requires extensive filtration in order to delay seal failure.
Inability to heat the fluid due to cups, packings and seals also slows production.
The Hydra-Cell® part washing pump delivers re-circulated hot cleaning fluids at high pressure for the most difficult cleaning jobs. Filtration can be reduced to a minimum as the Hydra-Cell part washing pump seal-less pumping action handles particles up to 500 microns. Using smaller nozzles to create greater pressures also reduces the overall amount of solvent required in the washer. Using less solvent, using less filtration, and the ability to increase solvent temperature are all Hydra-Cell part washing pump advantages. The best benefit of all – high pressure cleans better than low pressure!
We're in your industry - Please contact us for help!
Hydra-Cell is a positive displacement diaphragm pump that features a seal-less design to offer significant performance benefits for pump users.
No seals, cups, or packaging to leak, wear, adjust or replace. This minimizes downtime and reduces yearly maintenance costs.
Seal-less design makes Hydra-Cell an environmentally friendly pump because there is no leak path or undesirable emissions.
Hydra-Cell pumps can run dry indefinitely without damage. This eliminates downtime and repair costs.
Patented diaphragm protection (for most Hydra-Cell models) allows the pump to operate in case of a closed or blocked suction line due to an accident or operator error.
Unique seal-less, diaphragm design and check valve orientation enable the pump to handle abrasives and particulates up to 800 microns in size (depending on model). This can eliminate the need for expensive fine filtration.
Pumps the full spectrum of low-to-high viscosity fluids.
Accurate control of the flow rate by varying the pump speed over a wide range of discharge pressures and fluid viscosities.
Tolerates non-ideal operating conditions.
Available with an assortment of materials to resist corrosion, chemical attack, and abrasive wear.
Mechanical efficiencies of 80 to 90% provide significant energy savings compared to other pumping technologies.
Simple, compact design with rugged construction provides a wide range of installation options that reduces acquisition and operating costs.
Maximum flows range from 8 gallons per hour (gph) to 157 gallons per minute (gpm) with discharge pressures up to 5000 psi depending on model. (See "Model Lookup" for details.)
Low NPSH requirements allow for operation with a vacuum condition on the suction – positive suction pressure is not necessary.
Hydraulically balanced diaphragms handle high pressures with low stress for longer pump life.
Multiple-diaphragm design (except the F20 and P100) provide virtually pulse-free flow without the need for expensive pulsation dampeners.