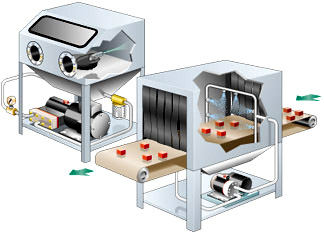 Parts Washing Pumps
Parts washing is one of the most common production steps for any industry that cuts, grinds or drills metal parts. Produced parts are covered with machining coolant, metal fines, and grime. While parts washers exist in many styles, they are all plagued by the same common problem; they require large reservoirs due to their low pressure, high volume flooding action. With piston/plunger style pumps, this becomes a time-consuming cleaning process because it requires extensive filtration in order to delay seal failure.
Inability to heat the fluid due to cups, packings and seals also slows production.
The Hydra-Cell® part washing pump delivers re-circulated hot cleaning fluids at high pressure for the most difficult cleaning jobs. Filtration can be reduced to a minimum as the Hydra-Cell part washing pump seal-less pumping action handles particles up to 500 microns. Using smaller nozzles to create greater pressures also reduces the overall amount of solvent required in the washer. Using less solvent, using less filtration, and the ability to increase solvent temperature are all Hydra-Cell part washing pump advantages. The best benefit of all – high pressure cleans better than low pressure!
We're in your industry - Please contact us for help!
The seal-less nature of the Hydra-Cell diaphragm pumps enable charged and dirty liquids to be processed without need for fine filtration to protect the diaphragm pump.
The Hydra-Cell diaphragm pump needs little maintenance and can operate at continuous duty at high pressure.
Pulsation is low, so dampeners may not be required for most Hydra-Cell® diaphragm pumps.
Hydra-Cell® diaphragm pumps can handle solids up to 500 microns, or more. They can be pumped without fine filtration. System costs are reduced and maintenance is simplified.
Most diaphragm pumps in the Hydra-Cell® diaphragm pump range can operate at any pressure from <1 bar up to at least 70 bar. Some models up to 170 bar.
Seal-less design distinguishes the Hydra-Cell® diaphragm pumps from other diaphragm pumps and is the basis of its long service life - many of the liquids pumped are harmful to pump seals. The Hydra-Cell® diaphragm pumps are tolerant of small solids, resistant to chemical and corrosive attack.