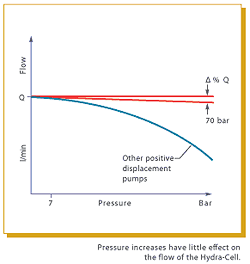 Metering Pumps
Meeting the performance criteria of API675, the Hydra-Cell® metering pump offers linear, repeatable, accurate steady flow.
The compact Hydra-Cell® metering pumps give the advantages of large traditional hydraulic diaphragm pumps, but at a fraction of the initial cost, spare parts costs and energy costs.
For example, at a given flow and pressure, a traditional pump with a 15kW motor can be replaced with a Hydra-Cell® metering pump with a 5kW motor.
Flow rate is varied by speed control offering turndown ratios of 10 to 1 or better.
We're in your industry - Please contact us for help!
Mixing
Chemical injection
Water treatment - PH control
Propellant packaging
Dispensing
Injection of additives to oil
Spray coating
Gas conditioning
Injection of lime slurries and ammonia into flue gases
Steam temperature control with DI water
Titanium dioxide
Polyol
Volatile fluids
Foaming chemicals
Polymers
Lactic acid
Animal fats
Sugar solutions
Soya oil
Fish oil
Sulphuric acid
Nitric acid
Halon
Caustics
Freon
Pentane
Colourings
Fuel additives
Flavourings
Resins
Slurries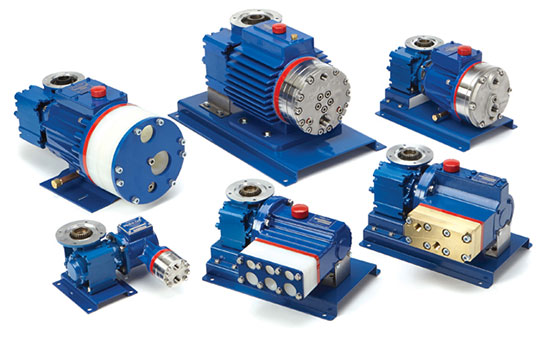 Hydra-Cell® Metering
The flow rate of a Hydra-Cell® metering pump is constant, regardless of system pressure. The relationship between flow and pump speed is a straight line. Flow is easily controlled to within ±1% accuracy simply by controlling pump speed - with turndown ratios of 10:1 or better. Flow is steady, with little pulsation.
The seal-less nature of the Hydra-Cell ® metering pumps enable charged and dirty liquids to be processed without need for fine filtration to protect the metering pump.
The Hydra-Cell® metering pumps need little maintenance and can operate at continuous duty at high pressure.
Pulsation is low, so dampeners may not be required for most Hydra-Cell® heavy duty pumps.
Hydra-Cell® heavy duty pumps can handle solids up to 500 microns, or more. They can be pumped without fine filtration. System costs are reduced and maintenance is simplified.
Most heavy duty pumps in the Hydra-Cell® pump range can operate at any pressure from <1 bar up to at least 70 bar. Some models up to 170 bar.
Seal-less design distinguishes the Hydra-Cell® heavy duty pumps from other heavy duty pumps and is the basis of its long service life - many of the liquids pumped are harmful to pump seals. The Hydra-Cell® heavy duty pumps are tolerant of small solids, resistant to chemical and corrosive attack.
Energy savings. Compact and highly efficient (80-85%), a Hydra-Cell® heavy duty pumps can be fitted with a smaller motor than would be required by many much bigger heavy duty pumps for equivalent flows and pressures.
Hydra-Cell® Metering Pump Selection Guide
Articles
Steam conditioning
(Published in Maintenance & Engineering, July 05)