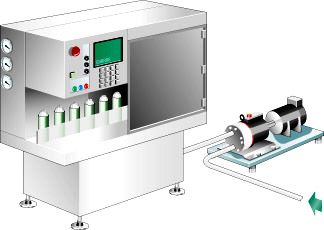 Butane Pumps and Propane Pumps
Hydra-Cell® butane pumps and propane pumps are pumping propellants in aerosol packaging machines for product filling, assembling, propellant filling, and testing of aerosol packages. Propellant used in spray cans for example is accurately metered and injected into the spray can at high pressure and then sealed for a finished product.
Modern aerosols use a number of different propellants to generate the pressure required to deliver the products for which they are made. Types of propellants used in this industry include blends of propane, N-butane, and iso-butane. These propellants are handled in a liquefied state that requires high inlet pressure.
We're in your industry - Please contact us for help!
The seal-less nature of the Hydra-Cell diaphragm pumps enable charged and dirty liquids to be processed without need for fine filtration to protect the diaphragm pump.
The Hydra-Cell diaphragm pump needs little maintenance and can operate at continuous duty at high pressure.
Pulsation is low, so dampeners may not be required for most Hydra-Cell® diaphragm pumps.
Hydra-Cell® diaphragm pumps can handle solids up to 500 microns, or more. They can be pumped without fine filtration. System costs are reduced and maintenance is simplified.
Most diaphragm pumps in the Hydra-Cell® diaphragm pump range can operate at any pressure from <1 bar up to at least 70 bar. Some models up to 170 bar.
Seal-less design distinguishes the Hydra-Cell® diaphragm pumps from other diaphragm pumps and is the basis of its long service life - many of the liquids pumped are harmful to pump seals. The Hydra-Cell® diaphragm pumps are tolerant of small solids, resistant to chemical and corrosive attack.
Energy savings. Compact and highly efficient (80-85%), a Hydra-Cell® abrasive pumps can be fitted with a smaller motor than would be required by many much bigger hot water pumps for equivalent flows and pressures.