Food Pumps
Though not qualified for Hygienic duties, Hydra-Cell® food pumps are widely used in the food industry because of their seal-less design and ability to handle particulates, abrasives, corrosives, caustics and hot liquids. Common applications include spray drying systems, coating, transfer of process liquids, mixing and dosing.
The Hydra-Cell® food pumps are ideal for pumping hot or cold, cleaning and sterilising agents in C.I.P S.I.P. systems, high pressure road-tanker, tank-wash systems and hand-held wash-down guns.
Articles
Food tanker cleaning
(Published in Food Trade Review, May 04)
We're in your industry - Please contact us for help!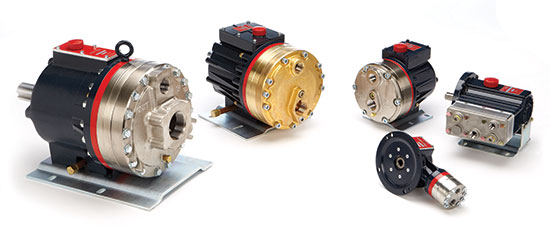 The seal-less nature of the Hydra-Cell ® sealless pumps enable charged and dirty liquids to be processed without need for fine filtration to protect the sealless pump.
The Hydra-Cell® sealless pumps need little maintenance and can operate at continuous duty at high pressure.
Pulsation is low, so dampeners may not be required for most Hydra-Cell® sealless pumps.
Hydra-Cell® sealless pumps can handle solids up to 500 microns, or more. They can be pumped without fine filtration. System costs are reduced and maintenance is simplified.
Most sealless pumps in the Hydra-Cell® pump range can operate at any pressure from <1 bar up to at least 70 bar. Some models up to 170 bar.
Seal-less design distinguishes the Hydra-Cell® sealless pumps from other pumps and is the basis of its long service life - many of the liquids pumped are harmful to pump seals. The Hydra-Cell® sealless pumps are tolerant of small solids, resistant to chemical and corrosive attack.
Energy savings. Compact and highly efficient (80-85%), a Hydra-Cell® sealless pumps can be fitted with a smaller motor than would be required by many much bigger and pumps for equivalent flows and pressures.