Design
Every pump is built to order
Every order is a priority at Wanner Engineering. Every pump is built to order. Our "Mass Customization" philosophy leverages the modular design of Hydra-Cell with sophisticated operational methods to:
Provide you with the properly configured pump for your process application
At a competitive price
Delivered with minimal lead time
We can help you match your flow/pressure requirements to select the best model and materials of construction based on your process fluid and industry application. We maintain optimum inventory levels of parts and components that translate into cost efficiencies and faster turnaround time for customers.
Specific
Building Pumps for your specific needs
Hydra-Cell simplicity, reliability and flexibility matches the ever-changing needs of modern industry.
Our customers are found in virtually every market sector of industry, but they all share the same concern; they all require pumps to keep their plants and equipment running... Reliably.
The Hydra-Cell pump has a fourty year history of doing just that. But today's solutions don't necessarily meet tomorrow's critical application requirements. That's why Wanner provides an on-going program of cooperative product development with our customers ranging from simple product modifications to completely customized pumping systems.
Design
Design Modifications
Many of our customers start with one of our standard pump designs, and then have us modify it to meet their specific needs, such as:
Pump component modification for enhanced performance
Custom pump head or body castings
Matching OEM paint specifications
Private labeling
Metric models available for OEM applications
On volume orders, Wanner Engineering custom designs, engineers and manufactures pumps tailored to specialized customer requirements. Whether the need is for a particular fluid, a critical performance specification, extreme operating conditions, or ultimate reliability, Wanner Engineering has the pump engineering expertise and manufacturing capabilities to meet the most challenging design requirements
Expert
Expert staff and attentive customer service
An expert staff and attentive customer service practices enable us to achieve the goals of providing the Hydra-Cell pump engineered and configured to your specifications.
A wide selection of metallic and non-metallic pump head materials plus diaphragm, valve and o-ring materials enable easy configuration to meet your specific needs from in-stock components.
Base plates, couplings and coupling guards are available in several inline and parallel mounting configurations to suit your facility and operating environment.
Custom pump head and body castings are available, as well as matching OEM paint and private labeling.
Comprehensive assortment of accessories include regulator valves, oil coolers and filtration, oil level monitoring, couplings, guards, connectors, and tool kits.
Options to enhance performance such as gear boxes, controllers, pulsation dampeners, and an assortment of drives.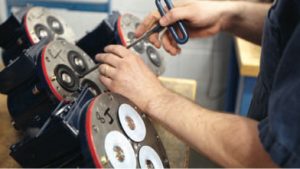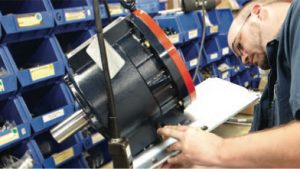 High-Pressure
D-04 operates at pressures up to 2500 psi.
Vertical Designs
Simplifies installation for machine tool and similar pump applications.
Valves & Accessories
Hydra-Cell pumps can be outfitted with a variety of options and accessories to complete your installation.
Welded Flanges
Ideal for petrochemical and other critical installations.
Design Choices
Wide selection of pump head, diaphragm and valve materials as well as optional mounting configurations.
Slurry Duty Pumps
Handles the tough fluids that destroy most other pumps.