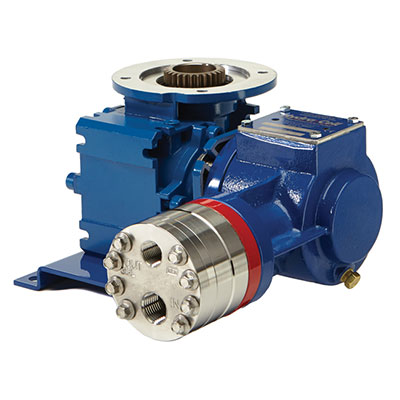 Wanner Engineering, Inc., announces that Hydra-Cell Metering Solutions pumps are now available with Aflas diaphragms as well as Brass manifolds. Aflas is a copolymer elastomer that is resistant to extreme heat, acids and alkalis. It is compatible for use when pumping water or alcohol, and in various chemical environments. Brass provides a lower-cost alternative to Stainless Steel and Hastelloy® when the higher discharge pressures of a metallic pump head are required. Other diaphragm material choices include EPDM, FKM, PTFE, Neoprene, and Buna-N. Other manifold material choices include Cast Iron, Stainless Steel, Hastelloy C, PVDF, and Polypropylene.
The Hydra-Cell Metering Solutions line includes six models with maximum flow capacities from 26.5 gph to 894.6 gph (85.0 to 2808.0 l/min) and maximum pressure ratings from 1000 psi (69 bar) to 2500 psi (172 bar). Five of the six models feature a multiple-diaphragm design that minimizes pulsations, producing smooth, linear flow without the need for expensive pulsation dampeners. A replenishment valve in every piston assembly ensures optimum actuating oil on every stroke for continuous accuracy.
The seal-less design of Hydra-Cell means that there are no cups, packing, and dynamic or mechanical seals to leak, wear, or replace. Spring-loaded, horizontal disk check valves and the seal-less design enable Hydra-Cell pumps to handle viscous fluids and abrasive particulates up to 800 microns in size (depending on pump model). Hydra-Cell Metering Solutions pumps can also run dry indefinitely without damage to the pump. In addition to the new Aflas diaphragms and Brass manifolds, Hydra-Cell pumps are available in a wide choice of valve and o-ring materials.